Mystery of Marketing
Are You Producting or Marketing?

Marketing, central to every business, is a mystery to most people. Insane! I first wrote about this phenomenon in 1989, in "The Mystery of Marketing."
Companies can't brand, increase competitiveness, or raise capital without excelling at marketing — impossible without fundamentally understanding the definition of marketing. And, to know marketing requires grasping the meaning of market, its root.
Many folks, especially those in techdom, can't define market — constantly referring to their products as markets. Incorrect! They suffer from technologica erotica. They're producting, not marketing. They're jargon junkies who can't discern between fads and trends.
Widespread obsession with producting is why 95% of companies dwell in the white noise with weak, unfathomable brands and excessively high costs of sales, capital, and media.
Words Matter: Assets aren't liabilities; arteries aren't veins; products aren't markets!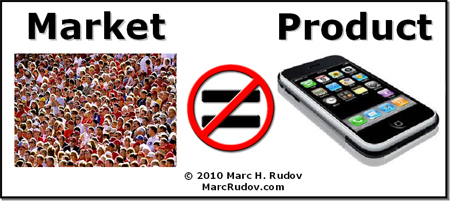 A market is a group of customers & prospects: people, not products or technologies. Ergo, there's no such thing as a "competitive" or "crowded" market — despite what you'll read in the trade and business press: Customers don't fight each other over vendors!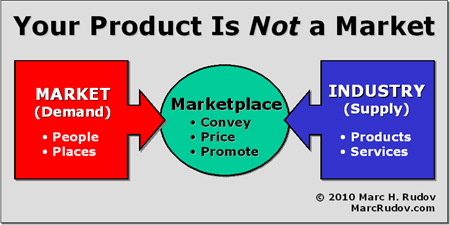 READ: "Fixing Demand Generation"

An industry is a group of vendors that supply the market with products and services. There is a competitive industry. And, an industry can be crowded — until the weak players quit or consolidate.
The marketplace is the nexus where the industry and market meet to exchange value (as referenced above, see "The Mystery of Marketing").
Learn More About "Producting" in Be Unique or Be Ignored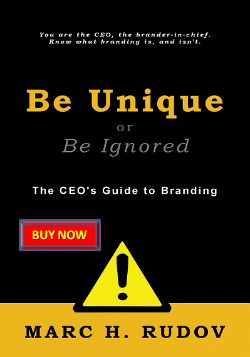 Examples of Media "Market" Mistakes

Example 1: On August 19, 2010, Intel announced its $7.68B acquisition of McAfee, a leading purveyor of security software. In the WSJ article reporting this news appeared the following paragraph:
Intel, based near McAfee in Santa Clara, CA, supplies more than 80% of the microprocessors that serve as calculating engines in PCs and server systems. Though that business is healthy right now, the company has long acknowledged that, without diversifying, it can't grow any faster than that market.
See a problem? The last sentence: "… can't grow any faster than that market." There is no market — only an industry segment, a product category. Products (PCs and server systems) are not markets. This linguistic faux pas, repeated in every business publication and inside most companies, lies at the root of branding failures.
Am I nitpicking? Hardly. Tell a judge that arguments and statements are synonymous.

Example 2: On September 2, 2010, Dell announced its exit from the bidding war with HP over data-storage vendor 3PAR. TradingMarkets.com's reportage included this paragraph:
The public bidding war between HP and Dell came as the two personal computer giants are striving to diversify their business and push into enterprise data center as well as other more profitable markets.
Notice that last word, markets? Incorrect. The proper term is industry or product segment. Am I nitpicking? Absolutely not. Tell a CPA that assets and liabilities are synonymous.

Example 3: On March 2, 2011, Apple announced its iPad 2. TechCrunch's reportage included this sentence:
After selling 15 million iPads in 2010 and gaining 90% market share in the tablet market, Apple is ready to take the next step.
There's no such thing as a tablet market. The correct term is tablet industry, business, or product segment. Am I nitpicking? Absolutely not. Tell a physicist that a proton and electron are synonymous.

Example 4: On May 10, 2011, the Wall Street Journal reported that Microsoft will purchase Skype for $8.5B. Its reportage included this sentence:
Skype could play a role in Microsoft's effort to turn around its fortunes in the mobile-phone market, an area where it has lagged badly behind rivals Apple and Google.
Problem? There is no mobile-phone "market." Industry, business, or product segment would be the correct term. A product is a market as an artery is a vein.

Example 5: On August 18, 2011, FoxNews.com reported that HP will jettison its tablet, smartphone, and PC divisions. This article is chock-full of market malaprops:
high-end server and software markets, worldwide computer market, 12.9% of the worldwide market, 10.7% of the market — which should have been labeled industries, shipments, businesses, or product categories
The sole proper use of market in this article: "The move echoes one from IBM, HP's rival for the enterprise market [correctly meaning customers], which in 2005 sold off its computer business to Lenovo, the biggest maker of PCs in China."

Example 6: On August 8, 2013, Wall Street Journal reported "Android Keeps Obliterating Smartphone Market."
While Google's Android operating system continues to distance itself from the competition in the worldwide smartphone market, one-time market leader BlackBerry is reaching new lows.

Reality: There is no smartphone market (there is a smartphone industry), and there is no market leader (there is an industry leader).