Book: Be Unique Or Be Ignored
Be Unique Or Be Ignored.com

(otherwise, keep scrolling down)
---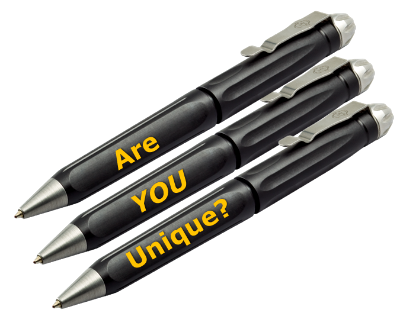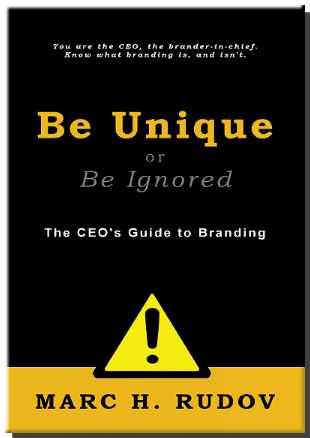 If you're like most CEOs, you believe your company is unique — because it sells the "coolest" or most-patented product in the universe, and explains it to the world with hip industry jargon.
Newsflash: you're not unique. Take an honest look at your homepage: it looks and sounds just like those of your many competitors. White noise. Generic jargon. Cloudy. Not good!
You probably believe that social media can offset a weak brand, too. Nope.
What's the result of such big branding miscalculations? Customers, analysts, investors, and reporters will overlook, or ignore, your firm — because they don't "get it" in 15 seconds.
Invest in Be Unique or Be Ignored: The CEO's Guide to Branding. Now.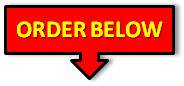 What You, the CEO, Will Learn From My Book
Why branding is your #1 priority
Branding is not just for consumer products
The difference between branding and marketing
Your product is neither a market nor a brand
What a brand is, and isn't
Jargon is a brand-killer
Weak brands raise your costs of sales, capital, and media
Branding by committee doesn't and can't work
Your comfort zone weakens your brand — and bottom line
Branding is your responsibility and is directly tied to your revenue growth and profitability
How to emerge a unique standout from the white noise
of me-too competition.
Rudov to CEOs: What You Must Know About Branding
SPECIAL NOTE: You can "lend" this book to your VP of marketing, but I wrote it specifically for you: the CEO, the brander-in-chief. Just as you must understand Sarbanes-Oxley (accounting), Six Sigma (manufacturing), and Obamacare (HR, accounting, survival), you must understand branding — otherwise, you'll make suboptimal, perhaps detrimental, decisions.
Why You Must Act Now!
According to the Wall Street Journal, Steve Ballmer, Microsoft's former CEO, asked Alan Mulally, CEO of Ford, how he had turned around the world's #6 automobile manufacturer. Mulally's answer: teamwork and simplifying the Ford brand.

Without simplicity, unique is impossible: your costs of sales, capital, and media will continue to rise. By heeding the principles in Be Unique or Be Ignored: The CEO's Guide to Branding, you will simplify your brand. Order your copies now.
PRAISE FOR MARC RUDOV

Be Unique or Be Ignored: The CEO's Guide to Branding by Marc Rudov is the best book on branding in years and a must-read for every person interested in his or her company's success. Marc strips away the typical jargon (which he disdains) that dominates most discussions on marketing and branding and gets right to the point. If you read just one book on marketing or branding this year, this is the book.
– James C. Chapman, Securities Attorney and Partner at Bingham McCutchen, LLP

Marc Rudov's Be Unique or Be Ignored is a must-read for the entire C-suite and for anyone in a position of leadership. Rudov debunks an array of common misconceptions about branding and gets to the essence of why brands are of paramount importance to corporate success. I highly recommend this book.
– Michael J. Burwick, Securities Attorney at Day Pitney, LLP

Marc's book is very good. I really enjoyed it. It's prescriptive (no handwaving) and, to my pleasant surprise, changed my mind about branding and its role. Without question, Marc makes me think differently about branding.
– Alex Osadzinski, Operating Partner of IDEA Fund Partners

There are so many books on branding. I found Marc's book to be unique and the best I have read on the subject. It's a must-read for any CEO looking to cut through the clutter.
– Chris Faulkner, CEO of Breitling Energy Corporation

Marc takes the idea of branding and turns it into a brilliant and creative exercise. This book is nothing short of a powerful tool for anyone trying to create a brand.
– Michael Parrotte, CEO of AGV Sports Group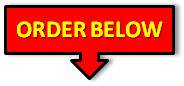 Paperback + eBook
---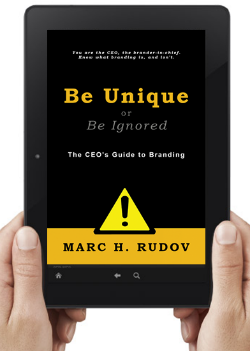 eBook Available @
---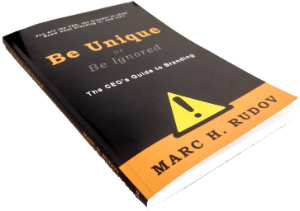 Paperback Available @
---
Hire Me to Sharpen Your Brand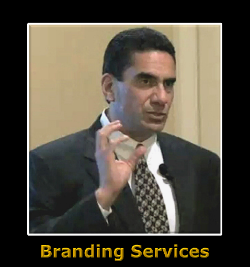 ---
Be Unique or Be Ignored: The CEO's Guide to Branding
by Marc H. Rudov
166 pages • eBook and paperback
ISBN: 9780974501758 (eBook) • ISBN: 9780974501734 (paperback)
Be Unique Or Be Ignored.com