Clarity Hastens Legal Help

The biggest complaint about clients that I hear from corporate law firms, especially those focused on entrepreneurial startups:
They can't describe their value propositions (their brands).
In other words, lawyers, customers, and investors want to know:
Why does the client company exist?
Why should anyone give a flying crap?
Note: The responses must not be about products & technologies.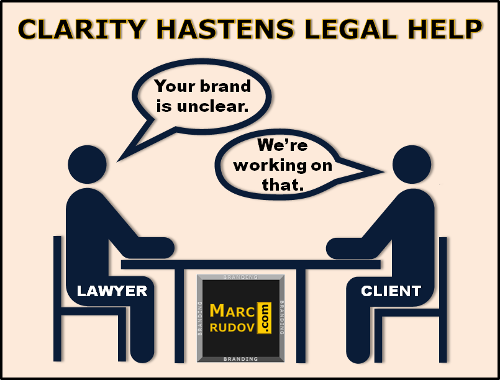 Companies tend to describe themselves generically and functionally (we manufacture widgets, we're a software company) instead of articulating the value (in customer language) that they deliver.
This makes it difficult for lawyers to help clients:
Draw up incorporation papers and private-placement memoranda
Secure funding
Pursue trademarks
Negotiate licensing and partnership deals
Engage in mergers and acquisitions.

The aforementioned difficulty will waste billable time and yield suboptimal results — causing unnecessary tension between lawyer and client.
Newsflash to Lawyers: Don't tolerate it. Encourage your clients to fix their brands, to get clarity. Clarity hastens legal help.
Moreover, the stronger your client company's brand, the more success it will enjoy — and the easier and faster it can pay your legal bills.
Remember: If your client's brand is weak, its expensive PPM (private-placement memorandum) will be impotent: investors won't instantly "get" why the company exists and why they should invest. Result: PPM will be the equivalent of a very expensive paperweight!