Raising Capital Requires a Strong Brand
Pitching is the art of articulating your brand (value proposition) in 15 seconds, so that your audiences — customers, investors, and media — will find it unique, compelling, memorable, and repeatable.
NOTE: If they don't get your reason for being immediately, you're sunk! So, DON'T waste the opportunity to pitch your company — CORRECTLY.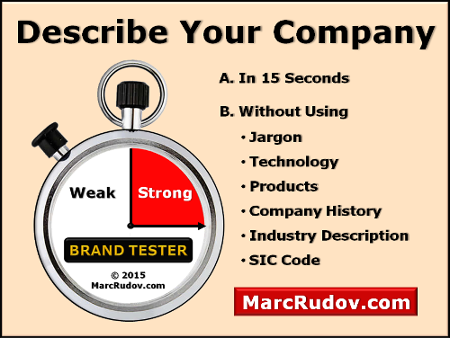 Successful pitching is particularly critical for a startup company: without funding, sales, and buzz, it may never grow past an idea.
Many argue that a pitch to each of these three audiences should be different. I disagree. Completely.
Read Chapter 16 in Brand Is Destiny to learn more.
Your brand is your brand is your brand: you have one value proposition, period. Consistency, uniformity, and simplicity are crucial to success.
Depending on the stage of your company and the amount of capital required, you will be pitching to angel investors, equity-crowdfunding investors, venture capitalists, private-equity firms, or investment banks.
Whether pitching to a few or few-hundred investors, your company must have a strong, crisp, memorable, customer-validated brand.